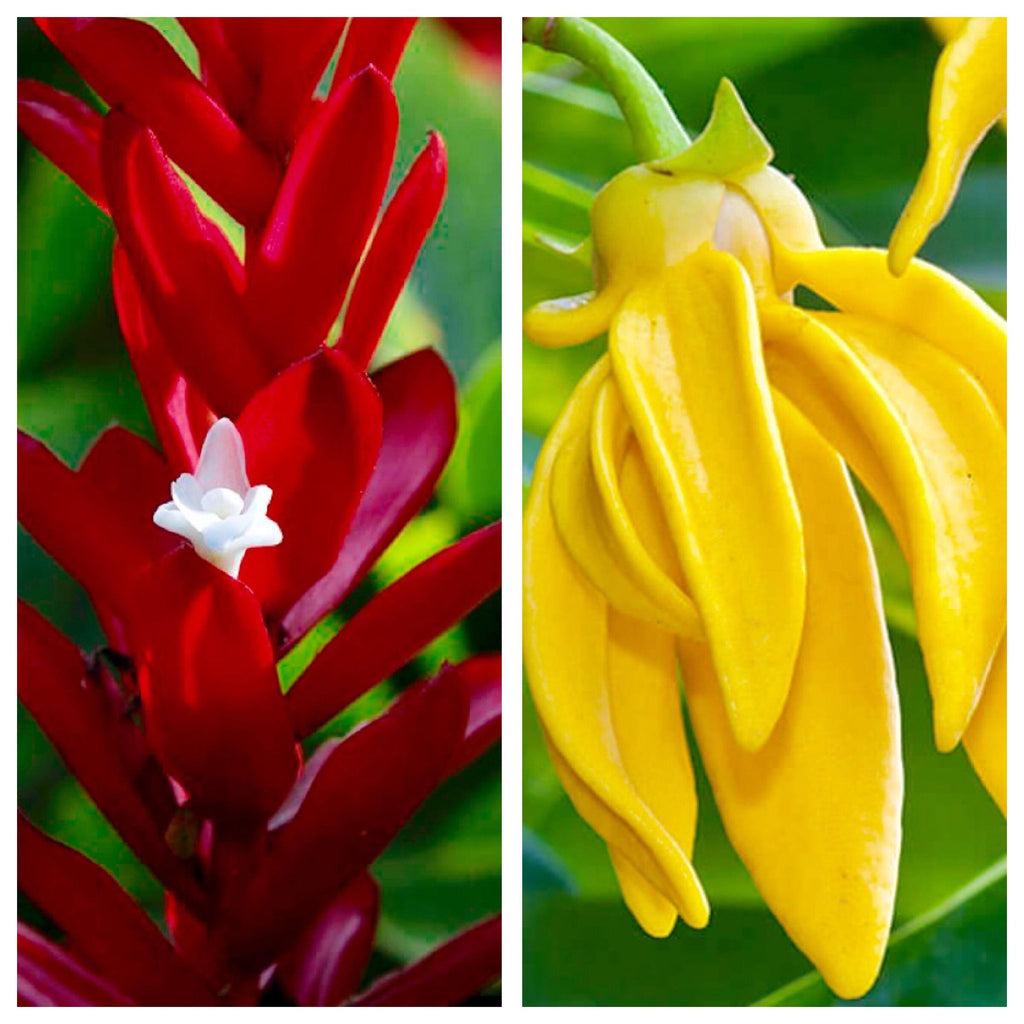 Traditional Tongan Oil (Lolo Tonga moe Kakala)
Pure Traditional Tongan Oils can be found in every home throughout the island Kingdom, Tongan oil or Lolo Tonga is regarded as an essential when it comes to body and skincare.  Our ancestors made Lolo Tonga by combining a variety of plants, flowers and nuts into coconut oil.
Lolo Mohokoi / Tevunga (Coconut, Ylang Ylang & Red Ginger leaves)
Please be advised that this current batch is mostly Tevunga
Our Traditional Tongan oil (Lolo Tonga) is made of Virgin coconut oil (Lolo Niu) and infused with a variety of botanical flowers and plants such as Mohokoi (Ylang Ylang) & Tevunga (Red Ginger Leaves). This Tongan oil has a  very unique and distinct botanical scent that is very different from other Polynesian oils. Ylang Ylang is known to maintain the skin's oil production and keeps it well nourished while the Red Ginger leaves helps preserve the skin's collagen which is great for an anti-ageing treatment. The unique blend of Coconut oil, Mohokoi (Ylang Ylang) & Tevunga (Red Ginger Lily) also releases out a subtle ginger like aroma which many Tongans adore. This oil also promotes hydrating benefits for dry skin conditions such as eczema and leaves your skin feeling smooth and moisturised. Our oils absorbs into the skin very quickly and hydrates the driest skin. 

Lolo Feta'u & Tuitui (Coconut / Tamanu / Candlenut) 
Lolo Feta'u (Tamanu oil) helps boost collagen, has healing wound abilities and reduces scars. Lolo Tuitui (Candlenut oil)  is a great body moisturiser, it helps reduce skin inflammation and promotes growth of healthy new skin. Our ancestors also used to chew the candlenuts along with other herbal plants to create a natural body scrub. Lolo Feta'u and Tuitui are great oils for all round skin and hair care.
This is a nut oil so please patch test first.
Lolo Sinamoni (Coconut & Cinnamon Leaves)
Lolo Sinamoni has many antifungal properties and is filled with natural antioxidants. Our Tongan traditional healers would use this as a massage oil to alleviate aches and pains, it is also highly effective as a natural insect repellent. Apply topically to help with minor wounds, fungal infections and reduce insect bites. 

Lolo Falahola (Coconut & Hala Fruit) SOLD OUT
Falahola (Hala Fruit) can be found throughout the Pacific Islands and is also known to be a very high quality Pacific Perfume due to its beautiful aroma. This highly fragrant fruit flower is widely used for decoration, and used in making Tongan kahoas (garlands or leis). This infusion oil is perfect for those wanting a more natural perfume oil and to incorporate it into their daily skin and hair care routine.
Our Tongan oils can be used as a:
Daily Skin Moisturiser 
Facial oil
Deep hair conditioning treatment
Sunburn treatment
Hair serum oil
Massage oil
Makeup remover
Lip Balm
Natural remedy for dry skin conditions 
These Traditional Tongan Oils are Vegan, Cruelty Free & Fragrance Free.
Ingredients: Cocos Nucifera (Pure Natural Coconut Oil), Alpinia Purpurata (Red Ginger), Cananga Odorata (Ylang Ylang), Aleurites moluccanus (Candlenut), Pandanus tectorius, Natural plant extracts
NOTE: Please be advised that our IRD oils will become solid under cool conditions, simply run under warm water for it to return to a liquefied state.