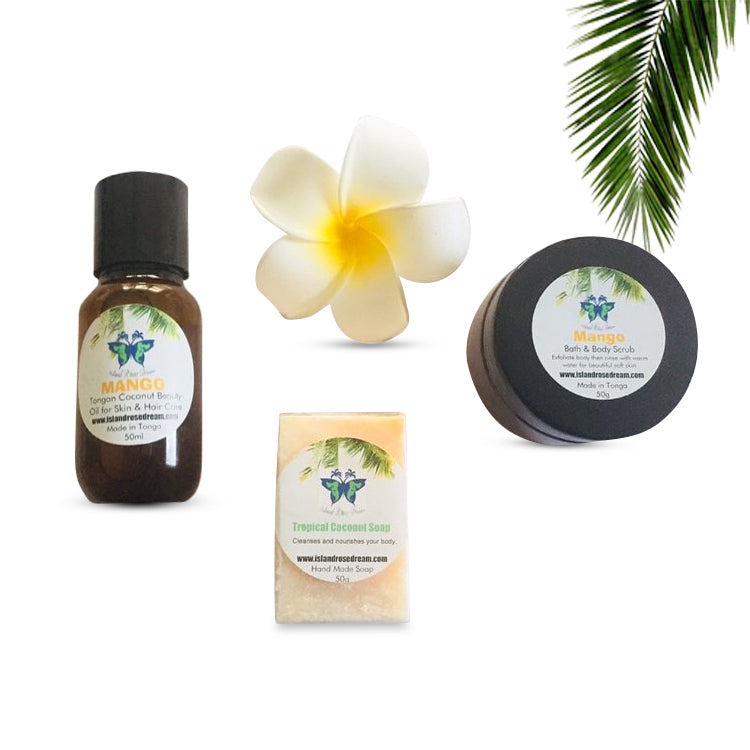 Small Tongan Spa Gift Set
Spoil yourself or someone special with our Small Tongan Spa Gift Pack! This Spa pack is perfect for an at home spa treatment and also great for travelling. 
This gift pack includes:
1 x 50ml Tongan Beauty Oil
1 x 50g Coconut Sugar Scrub 
1 x 50g Tropical Coconut Soap
This Spa pack can be your Travel Buddy. Check out the multipurpose ways you can keep yourself smelling good and feeling good while travelling.
Island Rose Dream Spa Ritual:
Cleanse and nourish your body in shower or bath, using our Coconut Soaps
Tongan oil can be used as a deep hair conditioning treatment
Use Soap as a shampoo bar for a tropical hair wash
Exfoliate body with sugar scrub to get rid of dead skin cells
After towel drying hair and body, you can massage oils into skin to hydrate and moisturise
Use Tongan oil to tame frizz and hydrate hair
Our Tongan oils are very multipurpose you can use as a body oil, hair oil, daily moisturiser, massage oil, makeup remover, lip balm, deodorant & perfume oil.